Recently I did some restoration on my old VW. Giving consideration to its aftermarket sound system, it occurred to me that if I was crazy enough to install an in-dash minidisc player in my '72 VW Beetle back in 2001 — more or less boarding a sinking ship — nothing is stopping me from rekindling my minidisc love now.

(I made this gif tonight, a tiny love note to minidisc fandom)
I took a look through some of my old minidiscs and discovered the most awesome package of minidiscs I remember owning. These are TDK Bit Club, which is the most stylish brand of minidiscs that I'm aware of — although minidiscs are pretty damn stylish in general.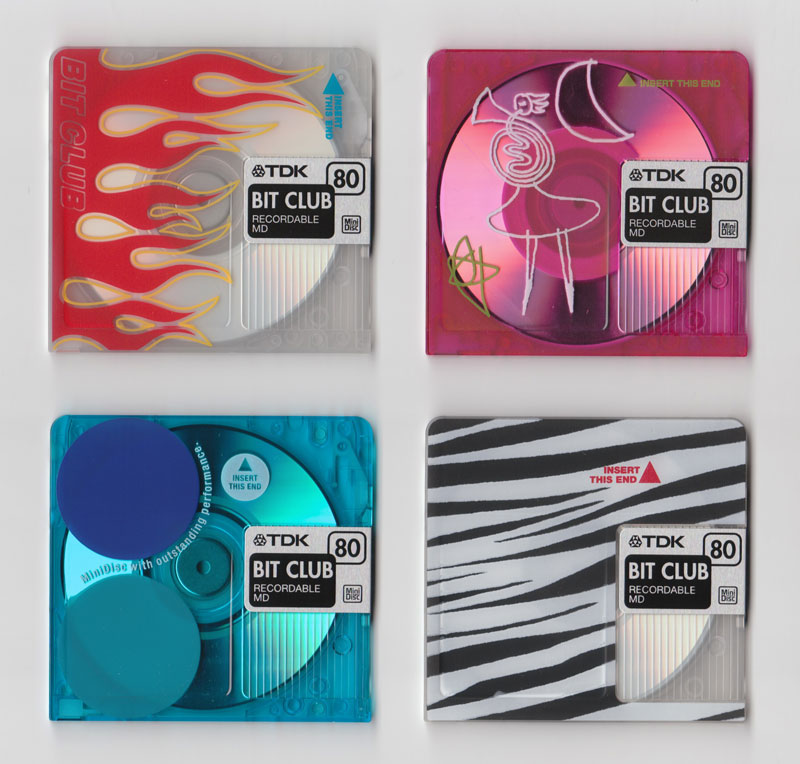 Above: All four minidiscs in the package

Above: Package front and back (I still have one precious unopened 4-pack)
I don't know if physical media is completely dead, but minidiscs share a stunted past with Betamaxx and Laserdisc — formats that hardly blossomed before the world moved ahead without them. When I madly chose to install a minidisc player in my 30-year-old Volkswagen, it was already an awesome-not-good idea.
But minidiscs are simply cool, right? This is partially because of Sony's amazing commitment to style and distinctiveness, which persists even today when the market adores Apple's think-different-buy-same gadget homogeny.
Besides Sony's attention to original style, the diversity of minidisc fashion may owe to the medium's popularity outside the US. The Japanese market, where minidiscs were apparently more mainstream, embraces colorful technology. (Americans? Beige, tan, gray, silver, black, white … and the occasional "slate", which is pretty much denim.)
I have more minidisc players and cool discs I may photograph and post another day. In the meantime, thanks, Sony, for your effort. Let's all take a moment to envision a world that never was, where digital audio was a little quirkier and style reigned.